To anyone who has been keeping a careful watch, it would seem as if Annabella Sciorra has been making movies almost without pause. In fewer than four years, she has appeared in seven films, in small and large roles, commanding attention that was seldom less than respectful and sometimes exalted. ("She shines. She glows. Her Angie is a delight," Vincent Canby of The Times wrote of the Bensonhurst temp she portrayed in Spike Lee's Jungle Fever.)
The praise sputtered out with the summer release of her eighth picture, Whispers in the Dark, a fatally flawed erotic thriller in which Ms. Sciorra played a psychiatrist in terrible trouble. Written and directed by Christopher Crowe, the film was savaged, and scarcely a friendly word was to be found for the Sciorra performance. Indeed, on its opening day in August, when she arrived for work on the Manhattan street where her newest vehicle, Mr. Wonderful, was being filmed, she spied solicitous colleagues surreptitiously whisking the morning newspapers out of sight. Of course, she had already seen them.
---
So why is this woman smiling? After the awful reviews, Ms. Sciorra is asked how she copes with the onslaught of negativism, and an easy grin lights up her face: "You know what? I'm a little surprised at how much I don't care." She had gone into the film with some doubts, she reports, but, buoyed by a practical blend of optimism and hubris, had been hopeful that her performance might help fill large gaps in the story. She was wrong.
"I was talking about it last night to a friend who is an actress, and she said, 'I can't believe how well adjusted you are about this.'
"I can't even explain it," Ms. Sciorra goes on. "I guess I agree with a lot of the reviews. I don't think I support these sorts of highly commercial films very well. And I think ultimately I don't really give a damn because a review has nothing to do with my work. It has nothing to do with me; it has nothing to do with my happiness or sadness or my life or my process."
If Ms. Sciorra (pronounced she-ORA) seems uncommonly serene about her poor grades, the calm could be one of the benefits of a recent sabbatical. After shooting two thrillers back to back—The Hand That Rocks the Cradle and Whispers —she stopped working for six months and has only now returned.
"You know, you make films and you're on a set 12 and 13 hours a day, and it's not real," she says soberly. "It's make-believe. Saturdays you're doing stuff, your laundry or your cleaning. There's no growth time or replenishing time. I needed to get back in touch with my life."
Ms. Sciorra managed to spend six days in the Cayman Islands, but for the most part her time was lavished on family, friends and self-improvement. A dedicated student of her craft, she signed up for a Shakespeare workshop given by Harold Guskin, the director and acting coach, and intends to return when her time frees up again. The net result of this respite was to leave her "a little bit more at peace, a little bit calmer. It made my life a little bit realer again."
Ms. Sciorra pauses, interrupted by a hacking cough, the lingering remains of a flu, which at midweek had sent her to bed. Then she lights a cigarette, a quasi addiction, which, she reports, comes and goes. She looks like a college student dressed for a casual Manhattan Saturday—no makeup, worn black pants, battered clogs, oversize white T-shirt, squat black hat intended to squash down the springy mane designed for her newest film. Sometimes she also sounds like a student as her sentences rise to Valley Girl interrogatory inflections.
On this busy day, she has spent the morning moving her belongings from an East Side furnished sublet to a West Side furnished sublet, for easier access to Central Park, where she jogs and savors the green. Then there has been a late lunch with the actor Peter Weller, to talk about a possible future project.
Now the park, her chosen venue for a meeting, is churning with distractions. So the interview adjourns to the nearby Plaza Hotel, and she settles into the rarely used landing of a mezzanine-level stairway. There, at ease on a red plush bench, she drops her clogs and sits cross-legged, twisting an unruly curl as she talks. There, an exploring party of four women from Kalamazoo, Mich., come upon her, and the two younger ones excitedly ask her to pose with each of them for snapshots. "You're so beautiful," one teenager exclaims. "So are you," she replies generously.
In truth, what is usefully absent from her face draws some film makers to her. Martin Bregman, a producer of Whispers, speaks glowingly of her intelligence and dedication to work, but equally important to him is the fact that her beauty is accessible: "She looks like a person; she doesn't look like a model who stepped out of Vogue magazine."
---
Moreover, behind that frail visage and fragile form dwells iron ambition, a steely will that inspirits her performances. When she is finished with Mr. Wonderful, which stars Matt Dillon as her estranged husband and William Hurt as her lover, she will move on to Romeo Is Bleeding, as spouse to Gary Oldman, who has been cast as a spectacular philanderer. Ms. Sciorra read for the role and won it, according to the director, Peter Medak, because not for a moment was she tempted to play it as "a suffering housewife, a typical victim. I didn't want to do it the obvious way, and Annabella allows me to go at it completely differently."
Annabella Sciorra cannot remember a time when she did not imagine a grown-up life as an actress, and no one in her family discouraged her fantasies. At an early age, she had a cache of makeup for pretend purposes and would emerge from her room, her face a riot of garish colors, to announce to her tolerant mother, "Look, Mom: a prostitute."
Her childhood was spent in suburban Wethersfield, Conn., with three brothers. Her mother was a fashion show stylist; her father, a veterinarian. When Annabella was 12, the family moved to Brooklyn and a few years later to Manhattan. Almost from the time Annabella Sciorra arrived in New York, she found her way to after-school lessons—classes in acting, classes in ballet, and later tap and jazz dance. A student of dance even today and a passionate lifelong fan of Busby Berkeley film choreography, she dreams of swirling her way through a musical.
"There's only one problem," she says with a rueful laugh. "I don't sing." For years, she has paid for singing lessons. Now somewhat relaxed about her ability to stay on pitch, she thinks she might actually belt out a tune in public.
After high school came years of struggle for Ms. Sciorra. Understandably, she would rather not say how many years, having concluded that keeping her age to herself is one way to avoid typecasting in a trade devoted to the practice. During those hard times, she studied and won occasional roles in Off Off Broadway theaters. To create work, she and friends started a group they called the Brass Ring Theater, a venture in which she did everything from build sets to direct plays. Rent and meals were financed by the usual jobs: she taught aerobics, offered spritzes of men's perfume at Bloomingdale's and served meals or mixed drinks in 25 different restaurants. Bar work was preferable: "There's a kind of power about bartending you don't have as a waitress."
One lucky day, she showed up for an audition advertised in Backstage. A novice film director, Nancy Savoca, was looking for a couple of players to appear in a trailer, a short that was to raise money for a feature film. "Hundreds responded," Ms. Savoca recalls. "Annabella was by far the best. She has a naturalistic quality we were looking for."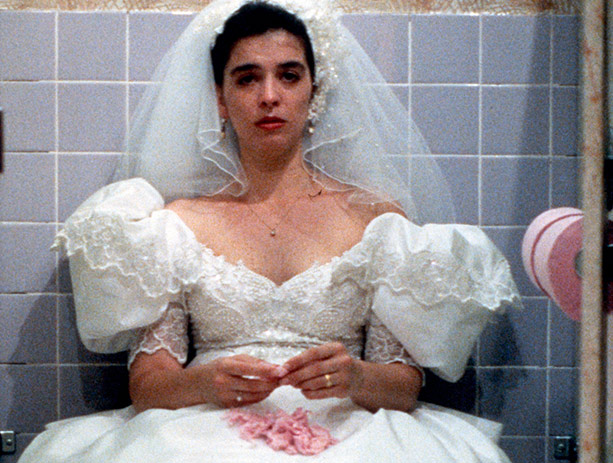 Two years went by before Ms. Savoca had financing for True Love, a fond, exuberant tale of young love and conflict among Bronx Italian-Americans; beyond free lunches and transportation, no one was paid a wage. By then, Ms. Sciorra had landed her first serious paying job, a featured role in an NBC mini-series, The Fortunate Pilgrim, based on a Mario Puzo novel and starring Sophia Loren. True Love proved to be the best picture at the USA Film Festival, and when it was released in late 1989, Annabella Sciorra was, indisputably, the stellar player of the movie.
At that point, she was still waving scent bottles in Bloomie's. Then she went out to Hollywood, her only stay in the film capital, for a bit part as Richard Gere's wife in Internal Affairs. She next appeared more noticeably—padded in bosom and hips—as Donna, the sexy secretary of Cadillac Man. That movie allowed Ms. Sciorra to give up perfume forever. And two years ago, in the wake of her luminous performance as half of the interracial couple in Jungle Fever, offers of leading roles began to arrive.
Now she is in a position to refuse parts exactly like the one she just played in her last movie. But even with a burgeoning reputation, even with offers turning up at a heartwarming rate, trauma is never more than a script away. Not long ago, Ms. Sciorra read for a part—she is still too wounded to name the movie—that "I really, really, really wanted." Until now, she has usually been able to rationalize a rejection, but not this one. "It was interesting because I couldn't let go of it. It went on for a month. I kept saying to my agent, 'Would you just call them back and see?' I couldn't get over that they didn't want me. I took it very, very personally."
Still, it is hard to worry for her. Right after Romeo Is Bleeding, she gets to choose among three films, all of them scheduled to be shot around the same time and each offering a role that interests her. "It's exciting," she agrees calmly. "But I want to do everything."
---