In a dim room high above the controlled chaos of Times Square, Jonathan Demme is watching a movie. To be more precise, the director is looking over the shoulder of his film editor, Craig McKay, at an editing machine on which reel six of Demme's latest film, Married to the Mob, is laid out, a bit like a patient on an operating table. The picture, a comedy about the romance between a Mafia wife and a young F.B.I. agent, will be released this summer. McKay runs the reel through—it lasts 10 minutes—and turns to Demme. "Whatcha think?" he says.
"It looks good," the 44-year-old director replies. In repose, Demme has the severe air of a Durer burgher: wide-set, narrow eyes; a determined, slightly undershot jaw. This impression is offset by his attire: Pompano Beach T-shirt, multipocketed fatigue pants, black Reeboks. But all trace of severity vanishes the moment he opens his mouth. He is warm, animated, gregarious. An enthusiast.
There are something like 10,000 movie directors in the world, and each is the leader of a small principality, with its own climate, culture, rules. Some of these regions are fallow, some in full bloom; some have a strong local character, in others the only constant is business.
Jonathan Demme's domain is America itself — a vibrant, polychromatic, up-to-the-second place. But there isn't a slick or pat frame in any of his movies. When Jason Robards and Paul LeMat, as Howard Hughes and Melvin Dummar, sing "Bye Bye Blackbird" as they drive through the desert at night in Melvin and Howard; when David Byrne dances across the stage in his big suit in Stop Making Sense; when Jeff Daniels, pretending to be the husband of his kinky kidnapper, Melanie Griffith, goes to meet her small-town mother in Something Wild — Demme's films cross the line from entertainment into poetry. They contain a warmth, a largeness of spirit, a deadpan humor, and a visual and narrative unpredictability that are indebted equally to the eye-pleasing kineticism practiced by Demme's mentor, Roger Corman, the master of horror and action pictures, and to the cinematic intelligence of his early friend and influence Francois Truffaut.
Demme celebrates America, yet he isn't content simply to give us back our culture in the language of commercials and sitcoms. He's trying to show us a new version. Jonathan Demme's America is an international community, full of the voices, colors and music of the whole world; that America is finally hitting the movie screen.
Reel six of Married to the Mob, so pleasurable to watch, so seemingly smooth, is actually a complicated patchwork of shots and sound bits that must fit together in precisely the right order, in just the right proportions, to move by in a smooth, lively, entertaining flow. And, for Demme, it's not flowing yet.
In particular, the car shot—a passage of about five seconds in which the station wagon driven by Michelle Pfeiffer, who plays the Mafia wife, heads toward Manhattan on the Long Island Expressway—seems ages too long. And the short intercut shots where Matthew Modine tells his F.B.I. superior about his plans to tail Pfeiffer don't yet have the right rhythm.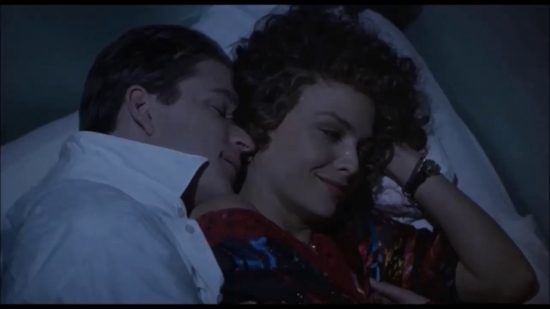 The cutting and splicing of film and soundtrack continue through the afternoon. Demme and McKay watch the reel over and over again, and although it gets closer to what Demme wants, it still isn't exactly right.
Finally, early in the evening, Demme watches the sequence one more time. Demme and McKay are silent as the images flicker through their inevitable course of action. To an unschooled outsider, the reel looks and sounds great: lively, funny, unexpected moviemaking, with fine, quirky acting by Pfeiffer, Modine and Dean Stockwell. Unexpected—exactly what we've come to expect from Jonathan Demme.
Then the reel is over, and McKay is looking at Demme. "Is that it?" he asks. "No," the director says. "But it's not uninteresting."
---
The NoHo loft in lower Manhattan that Jonathan Demme shares with his wife, the painter Joanne Howard, is a big, bright, airy place, filled with her jungle-flavored canvases and multicolored Haitian paintings (one of Demme's current passions is Haiti).
On a recent afternoon, with his newborn daughter, Ramona, lying in an antique cradle at his feet, Demme discusses his career.
He had planned to become a veterinarian. As a teenager in Miami, he served as a kind of apprentice to a local vet, cleaning cages, caring for dogs and cats. But in his first week of college chemistry at the University of Florida, Demme found himself unable to understand the most basic concepts. A medical career seemed unlikely. He was 21, momentarily bereft of ambition, but not of enthusiasm.
Ever since he was a kid growing up on Long Island, he'd loved going to the movies, particularly those with an emphasis on powerful sensation: Westerns, "sandal-and-spear" spectaculars, horror pictures, 1940's melodramas. Demme's parents also loved movies, especially foreign films. Demme remembers seeing Black Orpheus with them, and enjoying it very much.
He went to the office of the campus newspaper, The Alligator, and asked if it had a movie reviewer. It didn't. So Demme went to see a Peter Sellers film, The Wrong Arm of the Law, and wrote a review of it. He got the job. His mind started to open to cinema's possibilities. "I remember seeing Truffaut's Shoot the Piano Player. There's this one scene where the gangsters are interrogating Charles Aznavour, and he says, 'May my mother drop dead if what I tell you isn't true.' And Truffaut cuts to a shot of an old lady collapsing! It blew me away." One of the movies he critiqued for the Coral Gables Times-Guide was a Joseph E. Levine opus titled Zulu. Demme gave it a rave. Demme's father, who was in the hotel and airline publicity business, happened to be acquainted with Levine. Robert Demme arranged an introduction for his movie-loving middle son to the cigar-chewing producer, who, not unpredictably, was charmed with the review of Zulu. The producer offered Jonathan Demme a job. That did it for college.
"Demme is a really unusual filmmaker," says Pauline Kael. "He doesn't make big claims for himself. He doesn't make pictures people can sum up."
It was 1966. For the next two years, Demme worked as a movie publicist in New York for Embassy Pictures and United Artists. "The thought that I might be involved in actually making movies was the furthest thing from my mind," Demme says. "Being a publicist was all I wanted. I was having a ball."
Then Francois Truffaut came to town. Truffaut was publicizing his The Bride Wore Black for United Artists, and Demme and a friend in the U.A. publicity department, both Truffaut nuts, jumped at the chance to pick up the great man at the airport.
"Over the next week or so, I took Truffaut to all his interviews," Demme recalls. "It was just great …. He was an incredibly sweet guy and, at the end, when I was taking him back to the airport, I brought him the Truffaut Hitchcock book to sign."
Demme gets up and finds the book in a shelf. He opens it. The inscription reads, in big, scrawly handwriting: "For John [sic] Demme, avec mes amities and before his first movie, Francois Truffaut."
"I remember thinking, Well, that's very nice, but what did he mean?" Demme says.
It would take him a couple of years to find out. In 1968, he quit the United Artists publicity department and moved to London. He made friends, listened to music and reviewed records for a Boston underground paper.
In 1970, an old friend from United Artists in New York got Demme a tryout for a job as unit publicist on a movie that the producer and director Roger Corman was shortly to begin shooting in Ireland. Demme didn't hesitate. "I'd grown up with Corman's Poe movies, seeing things like The Masque of Red Death at Florida drive-ins," he says.
In an interview at Corman's production office in Ireland, Demme was surprised to find the American director of B-movies erudite and elegant—and thoroughly alert to Demme's enthusiasms. At the end of the interview, Corman suddenly asked, "Do you like motorcycle movies?"
Demme smiles at the memory. "I said, 'Sure! Especially your The Wild Angels.' And Corman said, 'Do you want to write one?'
"It turned out he was just starting New World Pictures. He was stuck over in Europe. He didn't have access to American writers," Demme says. Demme went to an old friend, the commercials director Joe Viola, and together they quickly came up with a story outline for a biker movie based on Kurosawa's samurai classic Rashomon. Corman liked their idea, except for the Rashomon parts.
As soon as Demme had finished the publicity for Corman's movie, he and Viola started writing. Eight weeks later, they took their draft to Corman at his London hotel. The director read it on the spot. "He said, 'Yeah, this is a pretty good script. I think we could make this,' " Demme recalls. "So we're going, 'My God, we wrote a script that's gonna get made.' And so Corman said, 'Well, look. Joe, you're a director; Jonathan, you work for a production company. Why don't you come out to California—I'll give you another couple thousand bucks—and make it yourselves?'
"So we staggered out of the Hilton, and three months later, we were filmmakers, out in Los Angeles, casting our movie."
---
The movie was Angels Hard As They Come. The title—dynamic, biker-related, rippling with innuendo—perfectly fulfilled the Corman formula. As did the picture itself. A good movie, by Corman's lights, had plenty of action, plenty of humor, a little bit of sex, and a little social comment. All on a budget of under $200,000. Corman was happy with Angels; Demme and Viola went to work for him again.
Shooting The Hot Box took Demme and Viola to the Philippines, where they ran smack into monsoon season. The weather was so bad that a second unit had to be set up. Demme ran the unit, and directed the extra scenes himself. "I said to myself, 'Hey, this is really fun,' " he recalls.
It was only natural, given Corman's liberal advancement policy, that actual directing should follow. Demme began shooting his first feature, Caged Heat, in 1974. Before the cameras started rolling, Corman took Demme out to lunch for what Corman called "the obligatory director's lesson." Demme already knew the formulas; here were the real rules.
The first was that the audience must feel sympathy, and respect, for the characters. "Name me one good movie you've ever seen," Corman said, "where you didn't like at least one of the people in it." As a producer of horror and action films, Corman had all too often seen directors bring in pictures that weren't much better than cartoons—because the people in them weren't much more than cartoon characters.
Demme vividly recalls another lesson from the lunch. "Remember at all times, when you're making the picture," Corman said, "that the eyeball is the primary organ involved in the experience of movie going. If you can't keep the eye interested, you're not going to keep the brain interested. Find good motivations to move the camera around whenever you can."
Demme directed two more films for Corman before the inevitable happened. "At a certain point," Demme once said, "Roger kicks you out of the nest."
Keeping our minds and hearts engaged is Jonathan Demme's gift.
By early 1976, more than a dozen directors had passed on a Paramount project called Citizens Band, an eccentric story about the C.B. craze, then at its height. Jonathan Demme got the job. The screenplay, by Paul Brickman, was "that rare script that is aggressively entertaining by virtue of how the characters are behaving," Demme says, "not because the story per se is extraordinary, or the piece is riddled with exciting action scenes, or there's a rich vein of really bottom-line kind of humor. It was just great characters. Magic seemed to arise from these characters. Implicit in all that was that it really gave me an opportunity for a completely clean break from the action-dominated movies that I had been making so far."
Paramount figured it might just have a sleeper hit in the small movie, but it took a wait-and-see attitude, spending little on advertising and promotion, and hoping the movie would hook onto the C.B. craze and catch. In May 1977, Citizens Band opened at hundreds of theaters nationwide—and nobody went.
After Citizens Band, "I couldn't get arrested," Demme said. Peter Falk, who had liked the movie, hired him to direct an episode of Columbo, but otherwise, it was a dry, hard period.
---
Citizens Band (later released under the title Handle With Care) may have been what is delicately called a succes d'estime, yet many people had noticed the emergence of a new American director of solid, surprising, understated style. Citizens Band treated its oddball, middle-America characters with affectionate humor and respect; it kept the eye interested at all times.
Most important, the director didn't tell his viewers what to think. When the amorous trucker Charles Napier got together with his two wives, when Roberts Blossom led Paul LeMat to think they were having LeMat's dog for dinner—Demme allowed the uncomfortableness of the scenes to inform the humor. Some reviewers were reminded of the warmth and surprise of Truffaut and Renoir.
The esteem Citizens Band had won kept Demme on some people's minds. Thom Mount, head of production at Universal, was one of them. He had a quirky script that he was wild about, by Bo Goldman, who had won an Oscar for One Flew Over the Cuckoo's Nest.
The screenplay was an embroidery on the true-life story of a Nevada milkman who picked up a derelict hitchhiker purporting to be Howard Hughes, and who, for his trouble, was written into a will purported to be that of the reclusive billionaire. The script was called Melvin and Howard. After one director tried unsuccessfully to cast it, Mount called Demme.
Melvin and Howard, starring Mary Steenburgen, Paul LeMat and Jason Robards, opened the 1980 New York Film Festival, and won immediate raves. The movie's odd rhythm, its unforced story line, its sympathy for its out-of-luck characters, and its quiet, unpredictable humor both echoed and advanced from Citizens Band. The story of the lovable loser who almost hit it huge felt just far enough from real life to be a movie and just close enough to be human and engaging. A Demme style had emerged.
Demme was named best director by the New York Film Critics for Melvin and Howard; the film itself was chosen best picture by the National Society of Film Critics. Bo Goldman and Mary Steenburgen won Oscars. But despite the movie's critical success, it was only briefly distributed. Was Demme's view of middle America too subtle for it?
His next movie would give him a chance at the mainstream. Swing Shift, for Warner Brothers, was a story about the women who worked in California aircraft factories during World War II. It was the first time Demme worked with a movie luminary. Goldie Hawn was both the star (along with Kurt Russell) and the executive producer. The ensemble acting of the excellent cast (which also included Christine Lahti, Ed Harris and Fred Ward) clicked beautifully, and Demme and his editor Craig McKay were able to put together a print they were thoroughly satisfied with.
Goldie Hawn hated the print.
She had 28 pages of new material, largely featuring herself, written. As editing on the movie proceeded, Demme half-heartedly shot the new scenes. As soon as the picture had been through two previews in its original form, the contractual period of the director's creative control was over, and Hawn, as executive producer, decided to re-cut the movie. Warner's backed her up. Demme and McKay quit the project rather than insert the new scenes.
Demme still doesn't like to talk about the worst experience in his film career. "I avoid trying to characterize Goldie's motivations," he says. "It's sort of a toxic thing to get into. We each dug our heels in and fought for the version that we believed in. And at the end of the day, Goldie had the power, and she won."
Swing Shift was a failure, both with the critics and at the box office. Pauline Kael, an early champion of Demme's work, regrets not having seen Demme's cut of Swing Shift before giving the movie a negative review. "I saw his cut recently, on videotape, and thought it was wonderful," she says.
"The pain lingered for well over a year," Demme says. But as always, his enthusiasm buoyed him. During the early stages of cutting Swing Shift, he had gone to a Talking Heads concert at the Greek Theater in Los Angeles.
"I just got so overstimulated by it. I couldn't believe how thrilling this was. It was a rock show that not only presented great music, but also seemed to have all these little hidden pockets of humor and also of emotion. As I came out of the concert, I thought, My God, that's a movie waiting to be filmed. The challenge to the filmmaker would be to not get in the way."
Through a mutual friend, Demme got in touch with the band's leader, David Byrne, who came to Demme's house to talk. Demme was awed by Byrne, but the musician was all business. "You think it would be a good movie. So do I. How would you do it?" Byrne said. "I said essentially that I'd try to keep it simple," Demme remembers. "I would try very hard to honor the excitement of the live performance by avoiding tricky shots, flashy editing techniques … anything that would constitute a digression from the performance itself.
"I felt watching the show was like watching a story that you admittedly can't follow on a narrative level, but there seemed to be an emotional through-line. And there was this perception of the band members as characters. David liked that a lot."
The resulting film, Stop Making Sense, was a triumph. People who had never heard of Talking Heads became fans.
---
Although Demme is often asked by producers and studios to pinpoint the sort of screenplay that would excite him, he finds this difficult to do. "I know that it can be, on the one hand, something that on paper just entertains the hell out of me," he says. "Where I enjoyed the read so much that the read gave rise to a feeling of, 'Yes, I'd like to do that. I'm enjoying the script so much, I'll bet tons of other people would enjoy the movie made from it, if it was done right.'
"Other times I read it, and become deeply involved with the characters, and a theme emerges which has a lot of resonance for me, moves me. And again, I feel, 'Gee, if I feel that way about it, perhaps I can make the people who see the movie feel that way, and then wouldn't that be wonderful?' " Continental Drift, the Russell Banks novel about Haitian boat people that Demme is currently developing with the writer, is like that, he says.
So was the script by an unknown screenwriter named E. Max Frye that Demme received in 1985. The story was about Charlie, a young businessman who enters a garish netherworld of sex, drugs and violence after he is kidnapped by a strange woman who calls herself Lulu. Demme took the script to Orion Pictures.
Orion had emerged from the ashes of United Artists in the late 1970's, in the wake of the Heaven's Gate debacle. The new studio's commitment was to pick winners and bet on them, by letting filmmakers it respected make their films with minimal interference. Orion gave Demme the go-ahead.
Encouragement can work wonders for an artist, and the movie, which came to be called Something Wild, represented a great flowering of the Demme style. Charlie and Lulu's odyssey took them across an America nobody had ever shown in a movie before: a new melting pot, full of faces and voices of every conceivable color. This impression was conveyed most strongly by the glorious soundtrack, which was like an enormous radio tuned to the music of the world. Demme had always celebrated Americana. Here, he was saying, was a new America, a nation informed by, as well as informing, the rest of the planet.
But the movie's tone shifted from bright ditsiness to darkness and violence, and despite the story's final re-emergence into light, audiences reacted negatively. They seemed to want their tragedy and their comedy unmixed. After the sunny interlude of Stop Making Sense, commercial success with a theatrical picture once more eluded Demme. Demme next directed the monologist Spalding Gray in his performance piece Swimming to Cambodia, which was released by Cinecom Entertainment Group. Gray's harrowing and hilarious portrayal of himself as an innocent abroad, acting a small role in the movie The Killing Fields, was a perfect Demme vehicle. It had humor and pathos; it showed America in relation to a rapidly intruding world. And it certainly wasn't an obvious commercial choice. Once again, Demme had stayed out of the way, allowing Gray's quirky style to carry the film.
Demme continues to follow his heart. He has done a number of programs for public television. He has directed videos for musicians he admires, including UB40, Fine Young Cannibals, New Order and Suzanne Vega. He directed Sun Cityfor Artists United Against Apartheid. His videos don't look like other people's videos. They're subtle, exuberant, warm, personal.
The UB40 video, for example, follows the whole progress of a concert at New York's Jones Beach, from setup to performance. On a languorous summer's day, to a reggae backbeat, stagehands work, the band tunes up, the audience flows in. Night falls. UB40 and Chrissie Hynde perform "I Got You Babe." As simple as that. The excitement of rock and roll is conveyed intimately, without strutting or assaultive camera work.
In late 1986, Demme went to Haiti on vacation, and fell in love with the country and its people. He returned the following month with a co-director, Jo Menell, and shot a documentary, Haiti Dreams of Democracy, for Britain's Channel 4 Television. The short film, which appeared on the Bravo cable service in the United States, takes a clear-eyed look at the colorful, direly poor, resilient and politically troubled land and its struggle to govern itself.
---
"Demme is a really unusual filmmaker," says Pauline Kael. "He doesn't make big claims for himself. He doesn't make pictures people can sum up-—there aren't any theses to them. With Demme you have to feel your way through the movie. People don't always like that. But I think he's one of our three or four most talented directors. He's overdue for a major discovery."
Married to the Mob—a big, commercial comedy—may be Jonathan Demme's chance. It is fast and deliciously funny, yet in its tempo and its writing, it's as thoroughly unexpected as anything he's done. The characters are likable, respectable in their disreputability. The camera, hand-held at unpredictable moments, moves.
In a sound-mixing studio in the Brill Building on Broadway, Demme is watching his movie. The print is a little closer to finished product. To the big beat of cutting-edge rock music, Matthew Modine vaults through the roof hatch of a Manhattan bus in pursuit of Michelle Pfeiffer, who struts down Broadway in a short leather skirt. Watching this movie, hearing this music, you feel a thrill of discovery: it's as if you're onto something completely new.
Behind the control board, Demme circulates among friends at work: his producer Edward Saxon, editor McKay, McKay's assistant, and a sound engineer. The warmth of the film and the warmth of this room are the same. Demme is relaxed, smiling, enthusiastic. Things are falling into place.
"I was screening some movies, looking for a score composer for Married to the Mob," Demme says. "And I saw the same thing, over and over: people searching for each other, people confronting each other. There's no such thing as a new story. You follow someone with a dolly shot; you come in with a close-up if you want to show a reaction. Nothing changes. Only the actors—wanting to see these people, how they react in a given situation—that's really what keeps us coming."
Perhaps. But keeping us involved with these actors is the director's art. Keeping our minds and hearts engaged is Jonathan Demme's gift.
---