Pete Hamill was not in great health the last few years of his life but when word came that he died last week at the age of 85, it was hard not to stop and take a moment to appreciate the passing of something bigger than one life. Pete Hamill was one of the true voices of New York City. He dated Jackie O, lived with Shirley MacLaine, made a name for himself in newspapers—though he originally wanted to be an artist—and also wrote novels and memoirs. A Drinking Life is a masterpiece.
Few were better as talking heads in documentary interviews. Hamill was Mr. New York, although he spent a lot of time living in Mexico as well. And with him goes a century.
"It is somewhat heartbreaking to think of Pete passing away at this, one of the lowest moments in his beloved city's history," writes Adam Gopnik over at the New Yorker, "but then, resilience was his greatest value, and the one thing that he would never do was give up, on the city or himself."
Hamill was adored by other writers and editors because he was a mensch. He had a sense of himself, an official New York spokesperson, but he wore it lightly. At least by the time I was introduced to him by his pal George Kimball a dozen years ago when I was writing a piece on George. Hamill was generous and approachable when we spoke on the phone. He was charming and comfortable sneaking a smoke outside the Film Forum with George before a screening of John Huston's Fat City, and downtown at a Barnes and Noble event for the library of America's boxing anthology.
He was Pete Hamill and you were not, but he didn't lord it over you, and he wasn't a jerk. He lived some kind of life and we salute him.
Here's John Schulian: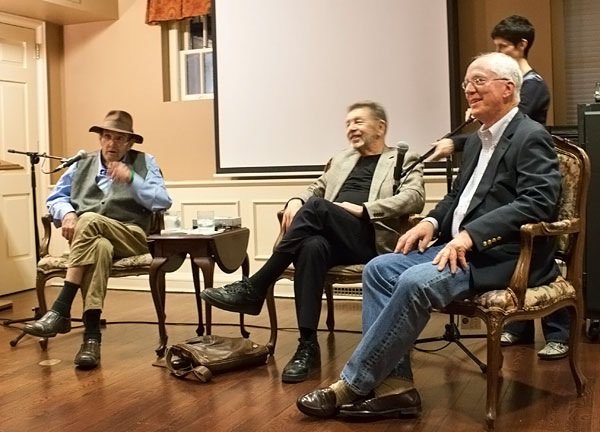 I thought of this photo when I was reading the obits and tributes that Pete Hamill's death inspired this week. That's Pete in the middle, George Kimball is sporting a very cool hat, and I'm just glad to be keeping such grand company. It was April 2011 and I was in New York for the publication party for At the Fights, the anthology of great boxing writing that George and I edited for The Library of America. Here we are warming up for it by flapping our jaws at NYU the night before. It was the first time I'd met Pete. When I spotted him out on the sidewalk, he was engaged in serious conversation with a student who had asked him for career advice, and Pete was giving him his full attention. It isn't every heavyweight writer who does something like that. Nor do they look after someone the way Pete looked after George, who was dying of cancer but still punching. They're both gone now and I am left thinking I haven't met many noblemen in this life, but I did know two of them. I have the picture to prove it.
From the stacks, check out this Hamill piece on Franz Kline, who Hamill worshipped in the '50s when he had dreams of being a painter instead of a writer.
Speaking of worship, Mike Lupica worshipped Hamill, and the two were close. Here's what Lupica wrote about Hamill for the Daily News. You'll want to see this moving tribute by Pete's younger brother, Denis. And we give the last word to Mark Kriegel, who says goodbye to his mentor over at ESPN.
---
[Photo Credit: David Shankbone/Wiki Media Commons]