"In the end, everything is a gag." —Charlie Chaplin
It is 4:30 a.m. on a Saturday in January. Bill Murray has just driven his Jeep from Malibu to Palm Springs. I am waiting in his suite at Maxim's de Paris, an ultrafancy spot in the desert, when he checks in, bleary-eyed from the drive. He drops his shoulder bag and falls onto the couch.
A fat, jovial bellman in a red uniform, chattering nonstop, carries in two suitcases and sets them down. Next, he brings in a six-foot-tall ski-balancing machine, then a full set of golf clubs. The bellman is puffing, but not enough to keep him from talking. 
"All the stars come here," he says. "Bob Hope lives in the next town but comes here to eat." 
Murray is sitting deep in the couch, a ridiculous hat over his eyes. He pushes up the hat and looks at the bellman, who now leans over Murray and adds confidentially, "Hope leaves quarter tips." 
The baggage parade looks like a burlesque skit. We are there only for the long weekend, but Murray's stuff keeps coming: a VCR, then a radio-and-cassette player with speakers, then a compact-disc player, plus discs. The bellman lugs in a large brown carton full of books and cassettes. Murray makes a bum out of Hope with a double sawbuck for the bellman.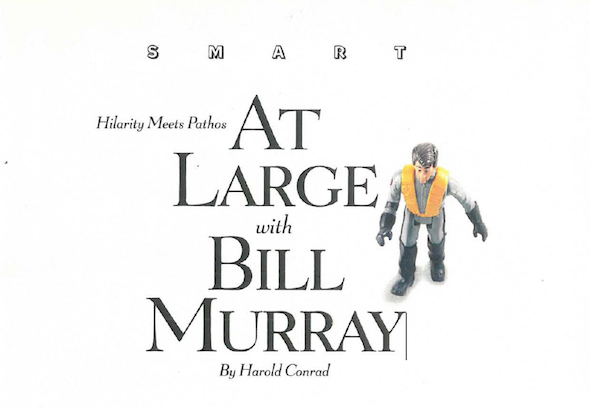 "God bless New Yorkers," the bellman says, and waddles out. I point to the pile and eye Murray. 
"Doesn't everybody?" Murray says. He stands up, stretches, yawns, makes a face. He is wearing khaki pants that droop in the seat like a loose diaper on a baby. The hat is a large-brimmed, furry thing in off-white, with black streaks. It looks like a dead cat, and, even if you like cats, it is a funny hat. 
"You know what you are?" I say. "You're a clown."
"Clown?" he says indignantly, and gives me a sour look.
Now I ask myself, What am I doing in Palm Springs watching Bill Murray sleep?
I tell Murray to take it as a compliment. Clowns can be funny without writers. But it's plain that Murray resents the sobriquet until we are deep into the subject, and he finds himself pointing out that great clowns make fine actors. It's because their spectrum of emotions runs from heavy pathos to the hilarious, he says, and brings up Popov, the great Russian artist and international star, and Emmett Kelly, America's foremost clown, who died ten years ago. Murray insists, however, that Emmett Kelly is very much alive and then falls asleep. 
Now I ask myself, What am I doing in Palm Springs watching Bill Murray sleep? Well, I am here to tell you what Murray is like. He sleeps like a baby. 
But this story really starts in Los Angeles, where I arrive to interview Murray on a Wednesday afternoon, and after two and a half days all I have is a paragraph about the untouched jug of vodka and the empty caviar jars in his trailer fridge. I figure what the hell and try to enjoy the tranquillity of Beverly Hills. But things start happening—such as the Santa Ana winds ripping the nation's largest dirigible to shreds. Then an earthquake hits, and millions of Angelenos think this is the big one. The epicenter is in the ocean, off Malibu, where Murray lives. 
The next morning, I drive out to the old Warner Brothers lot, now called the Burbank Studios. Ghostbusters II is being filmed on stage sixteen. The first time I visited this studio was about five years before there even was a Bill Murray, who was born in 1950. As I roll past the giant soundstages, I'm thinking about some of the players Warner Brothers had under contract back then, heavy stars and macho prototypes such as Humphrey Bogart, Jimmy Cagney, Errol Flynn, and Edward G. Robinson. Then I think about today's stars, and the talented Michael J. Fox comes to mind because he resembles my office boy back at the old New York Mirror, which I left when I first came to Hollywood. "You're getting older," as they used to say in Brooklyn, "when the cop on the beat looks younger." 
Murray is in his trailer. He had a seven o'clock call and looks haggard. I ask him how the earthquake last night affected him, and he heaves a noisy, tired sigh. 
"Really?" I say. 
"I had nightmares all night, fighting off tidal waves," he says. "I'm beat. I just have to get out of this town for a while. I heard I might have four days off after tonight, and I'm thinking Mexico, maybe Utah." 
He doesn't seem to be including me in his plan, so I tell him that I have to be back in New York in a week. 
"Don't worry," he says. "We'll work something out, do something different." 
---
The key set of Ghostbusters II is a replica of the conservation lab of New York's Metropolitan Museum of Art. I look around. It is all very impressive. People are working with exotic art-restoration tools. There is a fine line between Ghostbusters I and II. In the new one, Murray, or Dr. Peter Venkman, the noted parapsychologist and charmer, has been reduced to hosting a cable-TV talk show; Dan Aykroyd and Ernie Hudson, his two ghostbusting partners, are earning a living entertaining at children's birthday parties; but technical wizard Harold Ramis is continuing his research into the effect of human emotional states on the psychomagnetic-energy field. When evil lurks, the ghostbusters are suddenly back in business. There is a lot of smiling on the set, as if everybody thinks he's working on a parlay. The first Ghostbusters was one of Hollywood's all-time box-office blockbusters, grossing over $300 million, and word is out that the sequel could be even bigger. 
I walk over to the set for the next scene, the tacky kitchen of Sigourney Weaver's flat. Murray is still smitten with her from the last picture, but she married someone else, broke up with the guy, and is now raising an eight-month-old baby boy. There are two eight-month-old baby boys on the set, Hank and Bill, twins. One works while the other one naps, not a bad deal. As the camera starts to roll, little Hank is at bat. He nestles against Murray's shoulder with his face to the camera and starts to laugh and gurgle. 
"Isn't it wonderful the way Bill gets the baby to talk in the right spot?" says one of the makeup people standing next to me. I see that Hank's old man is standing just out of camera range, making funny faces at his working kid, but I don't say anything. The fact is that kids love Murray. It's the parents who sometimes have problems with him. 
Murray and I were having dinner with our wives at the Friars Club a few years ago and a table away from us was a couple with a kid, six or seven years old. He came over to Murray with a piece of paper and a pencil. Bill asked him his name. "Sidney," he said. After Bill signed it, the kid ran to his mother, his arm outstretched, holding the paper. With a big smile on her face, she took it, nodding at Bill. 
I watched her as she read the slip of paper. Suddenly, her smile turned into a look of puzzlement and her mouth opened wide. She saw Bill watching her with his angelic smile, and it desensitized her. She finally broke up. 
Here's what the paper said: "Sidney, run away from home tonight. —Bill Murray." 
---
"Hey, Jennifer," Murray asks, "what shoes am I wearing?" We're back in Murray's trailer on the Burbank lot, and he's dressing for his next scene. Jennifer Butler, a ringer for Sally Field when she played the Flying Nun, is very proud of the fact that she is a third-generation wardrobe person. She tells me that her grandmother and grandfather as well as her mother and father were in charge of wardrobes at the old major studios in the days when studios were studios. I tell her that I know what she means, but I am thinking that Hollywood natives are always talking about the old studios as if they were temples of gold lost during the Inca period. 
"I had trouble getting Jennifer for this picture," Murray says. "But I insisted on her. She was such a big help on Scrooged, which was a very tough project." 
"What about Scrooged?" I ask, thinking about the $35 million that the picture cost. "Was it that tough?" 
"It was that tough," Murray answers, "but I don't want to talk about Scrooged. It was tough because it's scary to be out there in a movie with all that money on the line." 
The budget for Ghostbusters II is around $30 million. 
"There aren't that many people you'd want to get in bed with on a project with this big a nut," Murray goes on. "But there's one consolation—this bunch out there on the set … you know they can make it work. We've done this before." 
With only seven major pictures, Murray has parlayed his price higher than most stars in Hollywood history.
The media have listed Murray's salary for Ghostbusters as somewhere between $6 million and $8 million. The truth is that he gets no salary. None of the stars of the movie do. They all take a piece. Murray refuses to divulge his percentage, but he figures to take down more than the $8 million salary that was rumored. 
Then there's the sale of ghostbuster toys and dolls. To say that they are heavy sellers in the industry is like suggesting that the pope dresses up. Kids on the street in New York call Murray "Peter Venkman." They pretend to be Dr. Venkman. And they buy a lot of Proton Packs and GhostPoppers and GhostZappers to get the job done. Kenner Parker Toys will introduce twenty-six new ghostbuster items this year, bringing the total to over sixty. According to Kidder Peabody, ghostbuster toys will do in excess of $100 million in 1989 alone. Figure that Kenner has to pay a licensing fee of around 20 percent into a pot that is divided up by Columbia Pictures, the producers, and the stars. 
But forget the dolls. With only seven major pictures, Murray has parlayed his price higher than most stars in Hollywood history. After his performances in three rowdy summertime comedies—Meatballs, Caddyshack, and Stripes—translated into box-office appeal (I'll get to Where the Buffalo Roam later), Dustin Hoffman wanted Murray to play his cynical roommate in Tootsie. The director, Sydney Pollack, didn't. He saw Murray as merely a strong player until he screened Murray's movies and changed his mind. "I was delighted to find that I was wrong about Murray," says Pollack. "In reviewing his work, I discovered that he was a most satisfying actor with a remarkable range." Although it was just another cameo role, there was gossip about an Academy Award nomination, and people were saying, "Hey, the guy's a good actor."
As a special perk, when Murray signed to star in Ghostbusters, Columbia agreed to let him do a project of his choice. He chose to remake Somerset Maugham's somber classic The Razor's Edge, a radical departure from his comic roles. He made this and then shot Ghostbusters, which came out while The Razor's Edge was still being edited. Ghostbusters became one of the most successful comedies ever made, and Murray became one of the most sought-after stars in the industry.
Some months later, The Razor's Edge was released. It got mixed reviews and bombed. Critics said that Murray came off well as a dramatic actor, but his fans at the box office didn't go for his having a tough life on the screen. It wasn't the Bill Murray they knew and loved. It was a strange time for the actor. He was depressed—but after the phenomenal success of Ghostbusters, he was set for life. He took his wife, Mickey, and their young son, Homer, to France for a year; a second son, Luke, was born while they were living in Paris. When he returned to the States, he was deluged with offers, but the only things that lured him from his house on the Hudson were a cameo role in Little Shop of Horrors and a few classical readings at small theater groups. Until now.
We're still in Murray's trailer, and he is telling me that since Tootsie, work seems to be getting harder and harder. "I get drained of a lot of energy just waiting." Murray says, "waiting around. When I made the Hunter Thompson picture, Where the Buffalo Roam, I'd be working at the studio all day and stay up all night with Hunter. I couldn't do that anymore." 
"I want to talk to you about that," I say. "And the time at the Mexican health farm when you threw the lady in the pool." 
"They're waiting for you on the set, Bill," Jennifer says. 
"I'm coming," he says, and as he opens the door he turns to me and says he'll call me later. 
"When later?" I ask, aware that Murray's conception of time is slightly warped. 
"As soon as I get through here." 
No calls from Murray that night or the next morning. In the afternoon I call the studio and am told that he took off and won't be back until next week. I call his agent's office; no one there has any idea where he is. I picture Murray sitting behind a frosty tequila in Ensenada, but at about ten that night he calls. 
"What's up?" 
"Where the hell are you?" I ask. "I'm thinking you shang-haied me." 
"Crossed my mind," Murray says. "Let's go to Palm Springs tomorrow. You can leave early and get some sun. I've got to take care of some things. I'll have my driver take me down, and I'll go back in your car. I'll be down later in the afternoon." 
As I mentioned earlier, Murray didn't make Palm Springs until 4:30 a.m. I guess it took him a long time to pack. 
---
I am in my fifth hour of sleep when the phone rings. It's Murray. He's ordering breakfast and wants my order. We eat on his terrace, looking out on those furry hills that surround Palm Springs. Murray sprawls in his chair. 
"This is really relaxing, huh?" Murray says. "Just what I needed." 
"What about the piece?" I say. "What about Hunter and the lady you pushed in the pool in Mexico?" 
"Come on," he says, "let's get started. We've got to get over to Bermuda Dunes. Jacobsen is playing. Looks like he's going to wind up in some money."
Peter Jacobsen, a pro golfer and a great friend of Murray's, is playing in the Bob Hope Chrysler Classic nearby. I can understand how Murray might want to hang out with his pal, but at the same time it seems that Murray has forgotten what I am there for, and I tell him this. 
"Why do some people want your autograph when it's plain that they don't give a shit about you? At least let a guy finish his dinner. Sometimes I feel people think, What the hell, this bum is getting all that dough—let's make him earn it."
"Okay," Murray says. "What do you want to talk about?" 
I ask him where he met Hunter Thompson. I know it's a good story because I have already heard it from Hunter, and, besides, I am interested in how the two versions will stack up. For a while there, Murray and Hunter were very tight. 
"I think I had just started on Saturday Night Live," says Murray, "but I was out here on the coast, visiting Lorne Michaels. This guy I knew had a convertible he wanted driven back East. I never made the trip by car, and I wanted to see the country. It was also a cheaper way to get home. My second stop was Aspen. I checked into this good hotel and went down to the pool. I saw this happy group of good-looking girls and this big guy who was bouncing around, getting laughs. So I joined them. They were talking about escapes and Houdini, and before I knew what I had gotten myself into, the big guy was tying my hands and feet to a chair. The big guy was Hunter Thompson." 
"Did you know who he was?" I ask. "Had you ever read him or heard about him?" 
"No. I didn't know Hunter Thompson from Sadie Thompson, and he didn't know me. But I had seen this chair-in-the-pool bit. If the water is not too deep, you can straighten up just enough to get your head above water if you get into trouble. That's what I thought. I'm over six feet. I stipulated he could only put me in the five-foot-depth section. He agreed and dropped me in by the side of the pool. 
"Now I'm sitting on the bottom. I try to move my hands. They're like nailed to the chair. I can't budge a muscle, and I'm running out of breath, so I go to my escape hatch and try to stand up to get my head above water, but I can't straighten up enough to do it….Things were getting serious. Hunter must have seen the bubbles gurgling. I felt this arm grab me and lift me out of the pool. That Thompson was a strong buck."
"He has the body language of a moose," I say, thinking about how Murray had zeroed in on Hunter's rapid-fire mumbling and bizarre postures when playing him in Where the Buffalo Roam. 
"You know who was originally supposed to star in the picture?" Murray asks. "Aykroyd and Belushi." 
"How'd you get Hunter down so fine?" I ask. 
"Wasn't that difficult for me," Murray says. "Maybe I was relating to him in some way at the time and I got on his wavelength. Weird, y'know." 
---
The traffic gets heavy as we approach the Bermuda Dunes Country Club, and we have to park about a quarter of a mile away from the action. "Let's go," Murray says, jumping out of the Jeep. "Head for the ninth hole by the clubhouse." He takes off like a hound dog on a bologna scent. I haven't seen him this energetic since I arrived in L.A., and I have trouble keeping up. As we pass the tenth hole, Murray leans over the rope separating the crowd from the players and yells at one of the caddies.
"Hey, you, get up there," Murray bellows. "You're lagging too far behind. Get up there."
The caddy, sweating under a hot sun and a load of clubs, stops to look at whoever the asshole is that is yelling at him. When he recognizes Murray, he breaks up, then starts moving double time. A golf course, any golf course, is Murray's turf. He once told me that he caddied for five formative years of his youth. As one of a family of nine kids, he had to scrounge for everything, and he was always interested in how the other half lived, their manners and their life-styles. Caddying, he came in contact with people from that affluent world. He still says that it was an important part of his education and that it was fun despite the assholes he occasionally encountered—like the kind that yell at you when you're caddying.
We follow Murray's pal, Peter Jacobsen, who is hitting the ball well and attracting a large gallery on his own. Jacobsen tees up on the eleventh hole, then walks over to Murray, who is standing up against the rope, and they whisper to each other for a few seconds. Then Jacobsen walks back to the tee and hits another beautiful shot, the ball landing on the green, some six feet from the cup. There is a buzz in the crowd and then applause. Everyone thinks Murray gave Jacobsen some vital information. I ask Murray what they talked about. 
"Nothing, really," he says. "I think he just wanted to break the tension. He asked me if I wanted to go up on the green and do a little putting." 
---
"I'm going to direct a movie the next time out," Murray informs me when we get back to our hotel. I stick my tape recorder under his nose. He gives me one of his eye-rolling takes somewhere between boredom and persecution. 
"Is this some kind of secret?" I ask. "I haven't heard about this or read about it, and you never mentioned it." 
"I'm telling you now, but it's not going to be a secret long," he says. "I'm going to direct my next movie; it's called Quick Change, a bank-heist story, from a book by a newspaperman named Jay Cronley. He's written several novels, and a couple of them have been made into movies. One was Funny Farm. Quick Challenge has two male leads and a female lead." 
"Are you acting in the movie?"
"Yeah … yeah … what the hell?" says Murray. "I might as well. I'll have to be there anyhow." 
"First-time directors are not always the most secure directors," I say. 
Murray suddenly gets very serious: "The camera is going to require some study. I've spent many years in front of all kinds of cameras, and I think I've picked up a pretty good feeling for this art, but I've got to get closer to the mechanics behind the camera. As for the other basics, I've had a lot of experience with comedy and tempo, and I know I understand performance." 
My tape is running out, and I go upstairs to get a fresh cassette. When I come back down, Murray is asleep. Later that night we spend hours driving up and down the highway, looking for an Albanian joint with a reputation for great lamb dishes that Murray knows about from Belushi. When we finally find it, the place is closed. 
---
Around the hotel, I am getting the feeling that everybody is being overly solicitous to me, especially when I am having lunch with Buddy Rich's widow one afternoon. Marie Rich is a very blond, very pretty woman, and we have a very pleasant time with Murray, who joins us for dessert. Later, I run into the waitress, who stops me in the lobby.
"It was such a pleasure to have your son and Peggy Lee at my table," she says.
"My son? Peggy Lee?"
"It's okay," she says. "Mr. Murray, the other one, told me."
The next day is Martin Luther King's birthday, which, Murray quickly points out, is a holiday, not a workday. He is poolside, semicomatose, glistening in the sweat-hot sun. An attendant rouses him with the suggestion of a massage. He sits up like a seal.
"Massage? Yeah, yeah, a massage, that's just what I need. And put him down for a massage," Murray says, pointing a finger at me. The masseuse turns out to be a block of granite named Teresa, with hands like iron claws. After the massage, Murray floats into my suite, singing, "Oh, Teresa, Teresa. Mother Teresa." 
"So what happened at the Mexican health farm?" I ask. "Did you push some dame in the pool or not?" 
Murray tosses me one of his prankster looks. 
"When you did it," I say, "you must have been thinking about the time Hunter dunked you." 
"The way to a woman's heart is to make her laugh," Sigourney Weaver says, "and Bill makes you laugh when you least expect it."
"I thought about it, but this was really a different kind of thing. It happened right before we started shooting Scrooged. This woman was really obnoxious. She was overdressed, even around the pool, and overbearing. She kept ordering me to give her autographs, and she was on me all day, like I was her personal trinket.
"The next day she was on me again and was holding out another sheaf for autographs. I said that I would sign them, but in return I would get to throw her in the pool. She laughed. 'Oh, sure you do,' she said. She thought I was kidding, and she pushed the papers on me. I walked her to the pool as I signed them, then I grabbed her, and she slipped to the deck, screaming. Then I rolled her into the pool, furs, designer clothes, and all. It was a beautiful picture." 
Murray is smiling. 
"And speaking of pictures," he says, scaling a photo over the coffee table to me, "use this one in your piece." 
It's a picture of two women and a very tall black man. "What am I going to do with this?" I ask. "You're not in it."
"You crazy," Murray yells. "That's my mother. That's my mom and my sister Laura and the fantastic Mike Jordan, star of the Chicago Bulls. Hey, my mother was funny, really funny. Nobody broke me up like she did." 
Lucille Murray passed away last fall of cancer. Murray's father, a lumber salesman, died when he was seventeen. Lucille assumed all responsibilities for the family, a widow supporting nine kids. There were strong emotional bonds between Lucille and her third son, who feels he is a beneficiary of her mirthful Irish genes. Murray was devastated by her death, but lately he has been eager to talk about her. 
"Let me tell you about the photo," he says. "The day was one of the high points of the last year she was with us. There was a celebrity shoot-out in this Western open golf tournament in Chicago. The celebrities, except for me, were Chicago sports stars Doug Wilson of the Blackhawks, Walter Payton, Ernie Banks, and Mike Ditka. It was one of those charity things where you're signing like a thousand autographs. 
"On every hole someone got eliminated, and I wound up winning with my partner, Peter Jacobsen. I was proud as hell, and I sat around the clubhouse like a smart ass, with my mom and sister, swilling whiskey sours. I saw Mike Jordan go by, and I thought, Wouldn't it be great to get a picture of him? 
"I said, 'Excuse me, Michael.' He turned around and had that pained look that somebody has when he really wants to go home. I said, 'Would you please take a picture with my mother?' and his face lit up. just look at the puss on that guy," Murray says, dangling the picture. "Look at that smile. And look at her. 
"Despite the illness … despite the illness," Murray goes on, "Mom had a couple of good last years. Of course, the earlier ones had been pretty rough. When I started making decent money, all that changed. At the beginning, it was funny watching her reluctance to spend anything. When she wanted a new furnace, I would tell her sure, but get something on sale. Somehow this took the guilt out of it for her. 
"I got her an American Express card, and spending became less painful. Then she got to enjoy it, and each year she made a geometric increase in the amount of money she spent. It was such a kick to see her have fun, and that's what money's for." 
---
"Let's eat Chinese," Murray says. "Get off the cholesterol." At 10 p.m. he's ready for dinner. We walk to a place near the hotel where they barbecue Mongolian style, and Murray has a little of everything. Then he goes back for seconds. Then dessert. As he is about to dig his spoon into a mountain of Mongolian ice cream, the waitress is suddenly there with a camera. She wants Murray to pose for a picture with her. He nods and puts down his spoon; the waitress hands the camera to a waiter, who takes the picture. As Bill picks up his spoon again, the waiter says he wants a picture, which the waitress takes. Now the chef and his assistant walk onto the scene in their goofy chef hats. They also want pictures. I know that Murray is getting pissed, but he never shows it, not even when the cashier deserts her register and runs over for her turn. By now his Mongolian-ice-cream mountain is a molehill.
As we walk back to the hotel, Murray says, "You saw what happened in there. That was an assault. If I could only have gotten through the ice cream. Why do some people want your autograph when it's plain that they don't give a shit about you? At least let a guy finish his dinner. Sometimes I feel people think, What the hell, this bum is getting all that dough—let's make him earn it."
The next morning, Murray tells me he's going back to L.A. "I'm having my driver fly in. I've got a million things to do."
"A million things?" I say. "Name a few."
"People to contact. Papers to go over," he answers. "Some friends and I are thinking about opening a restaurant in New York, downtown. Then there's my next film project. And baseball season will be starting soon," Murray says, chuckling. "I'm a baseball magnate, you know." 
"No, I don't know," I say. 
"I owned a few minor-league franchises with my friend Van Schley. One was the Texas City Stars in the Lone Star League, but we moved around in several leagues. We have a team in Salt Lake that has won three championships. The bench humor in bush-league baseball is hilarious once you get to know the language. I've spent a little time on that circuit, and I get a big kick out of it." 
"Tell me a bench-humor joke," I say.
"We're not on a bench."
I watch from the entrance as they load up the Jeep with Murray's goods; then he and the driver climb aboard and take off. A pretty girl asks the parking attendants if that was Bill Murray. They tell her it was. Then one attendant turns to the other and says, "How about that—he took off and left his old man here." 
---
Sigourney Weaver is laughing. I am back at Burbank Studios, asking her about Murray while he and the rest of the ghostbusters are supposed to be at work on the big set. I am wondering why Murray goes over so well with women, and she is laughing. 
"The way to a woman's heart is to make her laugh," Weaver says, "and Bill makes you laugh when you least expect it. He'll go up to a strange woman, grab her, and, behind heavy breathing, say, 'I want to know what makes you tick, baby.' It's such a shock to see someone break the conventions that they just end up laughing because there's nothing malicious about him. He's pure fun." 
Murray whizzes by on a bicycle. 
"He's the same with kids, even little babies," she goes on. "He walks up to them and yells, 'How ya, big guy?' He talks to them as though they were adults. At first they look at him in horror; then they get broken down and start laughing. It's really funny to watch." 
Murray makes another pass on the bicycle. "Leave that woman alone," he yells after me. "I'm serious. I'll see you back to New York." 
When I get to my car, which is parked near stage sixteen, I discover that my jacket is missing. It is irreplaceable, a safari jacket I had made in Africa when I was doing the Muhammad Ali-George Foreman fight back in 1974 in Zaire. I am not happy. Later that night when I call Dan Aykroyd for a quote about Murray, I bitch to him about my stolen jacket. At first he is outraged that someone would steal anything on the lot. Then he says, "Wait a minute. I think I saw Bill wearing your jacket."
I see the light. On his bicycle-mischief mission, Murray spots my car and takes the jacket as a going-away gag. Back in New York, I write him this note: "Dear Son: Word has reached me that you are robbing automobiles again. This could mean the reformatory. Dad." 
Two days later, a package arrives by air express. It is the jacket, dry-cleaned and neatly folded. 
---
Murray is supposed to be back in New York right after the final day of shooting on the coast, but I don't hear from him, except that a mutual friend spots him leading the bleachers in the national anthem on opening night for the Miami Miracle. But then one morning he leaves a message on my machine: "We're shooting tonight, probably all night, at Broadway and Bleecker Street. Come on down. We can talk." This doesn't make any sense because the movie was supposed to wrap weeks ago, but at midnight the environs of Broadway and Bleecker are in ghostbuster chaos. The streets swarm with tourists, Village regulars, and mischief makers who start yelling the second the cameras roll. The scene being shot—the ghostbusters exiting a small apartment house on Broadway and jumping into one of their ghostbustermobiles—would be a simple chore if not for the kibitzers.
I run into Harold Ramis between takes, and I ask him why they didn't finish up in L.A. as planned. 
"The locale for this picture is New York," says Ramis, "and after viewing the rushes, we didn't think it had enough of a New York look, so the whole company was brought back here, and we're adding a few New York scenes."
Murray is in his trailer, conferring with the scriptwriter of his bank-heist project. "Meet Howard Franklin," he says. "He not only wrote the script, he's going to codirect with me. I got to get on the set. This is going to go on and on. I'll call you Monday. Talk to Howard." 
Franklin's last script made for an interesting movie called Someone to Watch Over Me, and he is a pleasant, quiet-spoken guy. He tells me that he has never directed before either. 
Murray doesn't call Monday, Tuesday, or Wednesday. Thursday, his secretary calls. "Mr. Murray wants you to meet him in suite 1308, 200 West Fifty-seventh Street, at 1:30 this afternoon." I am curious about the address because I know he has a penchant for hideaway offices. 
When I press the buzzer at suite 1308, I am admitted by a pretty Japanese girl, who bows profusely. I ask her if Bill Murray is there, but she ignores my question. "Take off the shoes," she says. Murray strolls in a few minutes later. "What the hell are we doing here?" I ask. 
"A little shiatsu," he says. "They're good here, maybe not as good as Mother Teresa, but they're good. You need a massage." After a half-hour of abuse, we dress, and Murray orders some juice. I have to admit that my back feels better. 
"I've got a couple of final questions for the piece," I say. 
"Oh, that," Murray says, as if he has forgotten again what he and I are supposed to be doing together. As we take a table in a luncheonette, Murray tells me that I'm celebrating with him today. I ask him what we are celebrating. "I just locked up my starring cast for my movie," he says. "Signed Jason Robards this morning. Now it's Dennis Quaid, Geena Davis, Robards, and me." 
Outside, the rain is driving hard. Murray says he's got to run, all kinds of people are waiting for him. I get the picture, and it occurs to me that the story I am planning to write—full of numbers and quotes from Murray's agent and colleagues and friends—isn't the story at all. Across the table, Murray looks pink and nimble. I decide the story could be one sentence long. 
Bill Murray is a funny guy. 
---